Many moons ago, I wrote a blog about how London isn't necessarily the theatre capital and that regional theatre holds just as much promise – with a particular bias to Bristol of course.
And naturally, my opinion still stands, but folks, I have recently had to accept defeat and move to the dark side…Yes, I'm moving to London. Although Bristol boasts culture and a multitude of theatre options from the big musicals at the Hippodrome, to the independent and quirky at The Wardrobe – there still isn't enough opportunity for me here.
Marketing is something I think I'm quite good at – actually, scrap that, if I was a white, middle-class man I'd say I'm bloody fantastic at it, so let's go with that. My dream was always to market something I was passionate about, so I had three options: theatre, cats or tea.
After some pondering as to whether I was an old woman trapped in a 23 year old's body, I decided that theatre would be the most exciting venture for me – so the job hunt began. I soon realised that Bristol, although artistic and cultural, did not hold enough job opportunities for me. I became restless. Thus, Plan B came into action…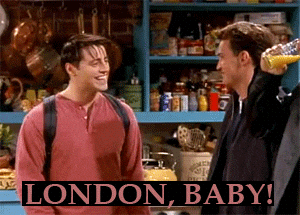 There were jobs aplenty in London – many that ticked my theatre marketing needs. After some browsing on the Arts Jobs website, I eventually stumbled across one for a Marketing Officer role at ArtsEd – a theatre school based in Chiswick. I never thought I'd hear back – but the following week I got called to interview, competing against five other candidates. A day later, I was called for a second interview, battling against only one other. Safe to say, I was bricking it. Did they call me back by mistake? Did I really make it to a second interview? There was self-doubt all over the place.
But I got it. I got the damn job.
And I suddenly realised – I did this all by myself. Me, myself and I (as to quote Queen B herself)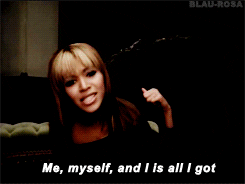 As women, our self-belief, as a rule, is ridiculously low. We're constantly questioning our skills, abilities and life decisions. So I've come to the conclusion that enough is enough. I got this far because of me, and I'm going to OWN it. I came across this really interesting article on the Forbes website, written by Margie Warrell about the gender confidence gap, which pretty much sums up what I'm trying to say here:
Women tend to have less self-confidence in their ability to complete a task than a man does.
"Women are less likely to take a risk on their career. Over time they end up missing out on opportunities." – Judith Beck, an executive recruiter in the financial services industry and CEO of Financial Executive Women (FEW)
The way to fix it? Warrell explains: "Too often women overestimate the risks and underestimate themselves. Only by doing the very things we're afraid of can we come to realise how little reason we ever had to fear. The only way to build confidence and courage is by acting with it."
And so, that's exactly what I'm doing – the very thing that scares me the most: new job, new sector, new city, new house = brand spanking new me.
Hello world, I'm coming for you. It's a new chapter for @theatregirl_94